Grilled TuNOfish Casserole Mac Melt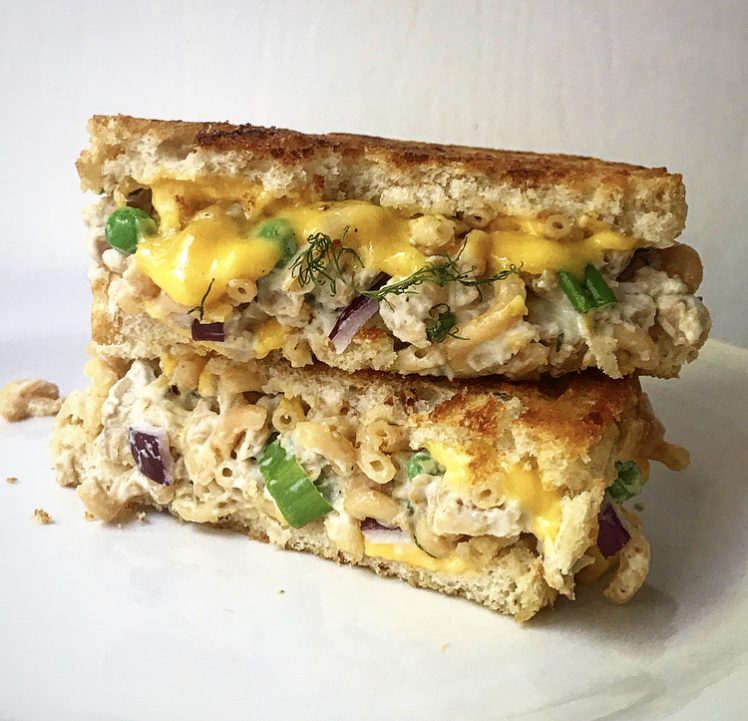 Submitted by Andrea Procopio
About the cook:
My name is Andrea and I'm a 33 year bartender, master home cook, and mom to a senior rescue Chiweenie dog who is my biggest joy. Ive spent 1/3 of my life living currently in Los Angeles, CA and the prior living in Chicago, IL where my entire Italian family still resides. I was raised a Chicago-style food lover & hold the Midwest very close to my heart. After living in CA, I'm now vegan and take great pride in cooking plant based family style and recreating old recipes my mother made me as a child into "veganized" delicious copycat dishes without sacrificing flavor or heart, and most importantly: Nonna approved!
About the dish:
When it comes to comfort food: this traditional family favorite became a game changer after my mom grilled it between two pieces of buttered sourdough. I'm changing the game again with a FULLY plant based copycat version packed with protein, herbs, crunchy onions, and dairy-free cheezy mac.
National Origin:
American
Serves:
2
Estimated Time:
30 to 60 Minutes
Ingredients:
1 can Garbanzo Beans, drained
2 Tablespoons Vegan Mayo
1 Tablespoon Spicy Mustard
1/2 Lemon, Juiced
2-3 Dashes of Malt Vinegar
Sprig of Fresh Dill, finely chopped
1/4 cup chopped red onion
1/4 cup chopped green onion
1/4 cup frozen peas
1 Box Vegan Mac and cheese, cooked accordingly.
Salt/Pepper/Italian Seasonings/Garlic Powder and OLD BAY or "fish-free" seasoning
4 slices dairy free cheese of your choice
4 slices thick sourdough bread
Plant based butter
Preparation:
-Cook your favorite vegan mac to order, and set aside to cool down.
-Cook peas for 3 minutes and set aside to cool with vegan mac.
-Add Garbanzo can, Lemon Juice, Red Onion, Malt Vinegar, dry seasonings & fresh Dill sprig to a small food processor, pulse LIGHTLY to mix everything evenly, being sure not to pulverize it. (Chunks are good!)
-Place Vegan Mayo, Mustard, chopped green onions in a large mixing bowl.
-Carefully fold in/mix "tuna" Mixture, 1/2 box prepared Vegan Mac, and peas.
Texture should be thick. (It will thin out when heated and grilled).
For the Melt:
Slather some Vegan Butter on two slices of Sourdough and place butter-side down on a warmed OVEN SAFE skillet. (Cast iron is best)
-Add one slice dairy free Cheese on each bread.
-Cook on LOW, slowly melting the Cheese without burning the bread bottoms.
-Using a large serving spoon, Pile TunNo Casserole on one side of bread, and place entire skilled under a broiler in oven. Broil for 3-4 minutes, until cheese is melted and tuNo is warmed through.
-Remove skillet from oven, place the bread slice w/ the cheese only on top of the tuna filled bread (like a grilled cheese). Turn heat up high & press sandwich down firmly, folding anything that squished out of sides back into the sandwich with a spatula. This creates a cheezy mac crust.. its delicious.
-When properly grilled, place grilled melt onto a plate and wait approximately 1 minute for the bread to cool slightly, so it is easier to slice. Using a sharp knife, slice sandwich and Enjoy!!!