GREEK MEATLOAF WITH TZATZIKI SAUCE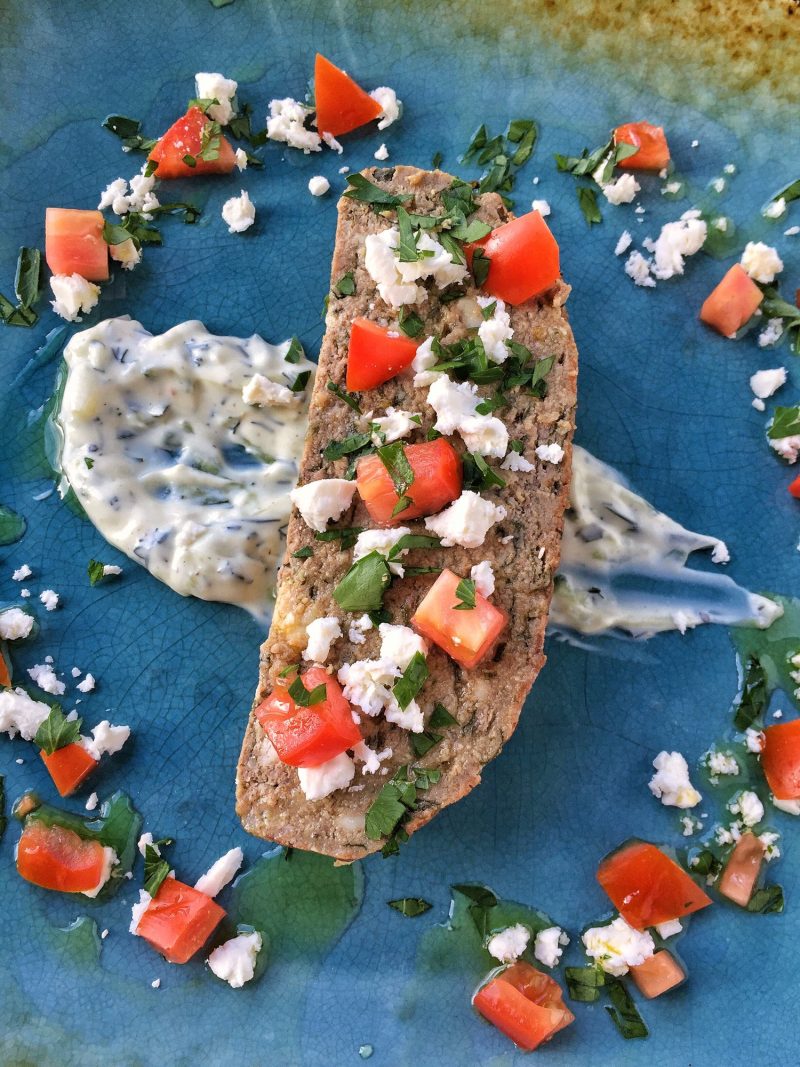 Submitted by Audrey Alfaro
About the cook:
I'm Audrey. I'm a rockstar mom, okay wife and foul-mouthed chef from Anchorage, Alaska. I love horror flicks, fried chicken and vodka. Not together, but just in general. When I'm not cooking, you can find me at thrift stores or feeding the homeless. I'm a food columnist for the Spokesman Review, costume maker extraordinaire, a perfectionist, and lover of all things edible. I was once on a show on MTV and a contestant on Food Network's Halloween Baking Championship. Whipped cream was used on both. CHEERS!
About the dish:
A spin on a childhood staple, this Greek meatloaf is tender, juicy and full of flavor. The feta adds bites of saltiness and creaminess. And the zesty kicks of garlic and onion are soothed with the refreshing, cool tzatziki sauce. Your mouth will be syrtaki dancing in delight.
National Origin:
GREEK
Serves:
4
Estimated Time:
1 to 2 Hours
Ingredients:
FOR TZATZIKI SAUCE:
1 english cucumber, unpeeled, seeded and finely diced
Kosher salt
2 cups plain Greek yogurt, full fat
2 tablespoons olive oil
2 cloves garlic, minced
Juice from 1/2 a lemon
Fresh cracked pepper
1/3 cup fresh dill, chopped
FOR MEATLOAF:
2 pounds ground beef
1 cup dried stuffing mix
1/2 cup milk
2 eggs, lightly beaten
1 1/2 tablespoons Worcestershire sauce
4 tablespoons steak sauce, divided
3 cups fresh spinach, chopped
1/3 cup onions, minced
3 garlic cloves, minced
Zest from one lemon
4 tablespoons fresh parsley, chopped and divided
1 1/2 tsp salt
1 1/2 tsp pepper
1 1/2 tsp cumin
2 tsp garlic powder
2 tsp oregano
2 cups crumbled feta cheese, divided
1 cup tomatoes, diced
Preparation:
FOR TZATZIKI SAUCE:
In a small bowl, toss cucumber with 1/2 teaspoon kosher salt. Transfer to a fine mesh strainer over a bowl and set aside to drain, about 20 minutes. Place drained cucumber into a cheese cloth and squeeze out excess liquid.
Combine yogurt, olive oil, garlic, lemon juice; and salt and pepper to taste in a large bowl.
Stir in cucumber and dill.
Cover and chill in fridge for at least one hour before serving.
FOR MEATLOAF:
Preheat oven to 350 degrees . Spray a 13 X 9-inch baking pan with nonstick cooking spray.
Combine milk and stuffing in a small bowl and allow to soften, about 5 minutes.
In a medium mixing bowl, combine the ground beef, eggs, Worcestershire sauce, 2 tablespoons steak sauce, spinach, onions, garlic, lemon zest, 2 tablespoons parsley and seasonings. Add 1 cup feta cheese and softened stuffing mixture and mix with your hands until all ingredients are combined.
Form into a loaf, approximately 9 by 5 inches, and place in prepared baking pan. Brush the top with remaining steak sauce.
Bake in the preheated oven for 1 hour. Tent with foil and rest 10 minutes before slicing. Serve slices with tzatziki sauce, sprinkled with parsley, diced tomatoes and feta crumbles.