Chocolate Banana Bread Muffins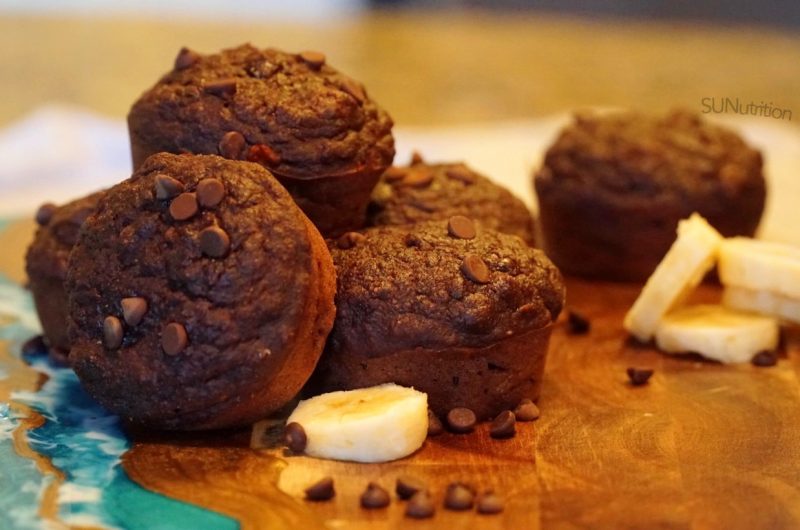 Submitted by Sami Holmes
About the cook:
Growing up, I learned the a lot from my mom (the queen of eyeballing) in the kitchen, along with the importance of wholesome family dinners. Now, I spend most of the year traveling with my professional baseball playing husband, experimenting in the kitchen, and helping others create a healthier, balanced lifestyle. Health, balance, and sweets are all important to me. Which is why I strive to make "tastes too good to be healthy" recipes. Through my recipes, I hope to show people that eating well and nourishing our bodies doesn't have to be bland, boring, or impossible.
About the dish:
One of my FAVORITE recipes that my mom would make when I lived at home was chocolate banana nut muffins. Whenever I'd notice the bananas starting to go bad, I would be like "oooh mom can you make the muffins?!" and she always would. With this recipe, I originally wanted to make banana bread, but I realized that our bread loaf pans are at home (it's baseball season so we're traveling right now). I figured I'd just use muffin pans and call it a day. But the muffin pans and brown bananas reminded me of my mom's recipe so I decided to stray from my original idea and let my mom inspire this recipe!
National Origin:
American
Serves:
6
Estimated Time:
30 to 60 Minutes
Ingredients:
448g (~4-5 large) very ripe bananas
2 eggs
2 tsp. vanilla
2 TBSP maple syrup (we used Lakanto sugar-free monk fruit maple syrup)
2 TBSP coconut oil, melted
1/2 C oat flour
1/2 C whole wheat flour
6 TBSP cocoa powder
1 tsp. baking powder
1 tsp. (~4g) Stevia
1/4 tsp. salt
1/4 C chocolate chips
* optional toppings: walnuts, chocolate chips, brown sugar
* flour: any type of flour (such as whole wheat, spelt, oat, all purpose) can be used as long as it amounts to 1 C
* oil: other types of oils may be used (walnut works well)
Preparation:
1. Preheat the oven to 350F
2. In a bowl, mash the bananas
3. Once mashed, mix the rest of the wet ingredients in
4. In a separate bowl, combine the dry ingredients
5. Add the dry ingredients to the wet and mix until combined – be careful not to overmix
6. Fold the chocolate chips in
7. Spray a muffin pan with cooking spray or line a pan with liners, and fill each muffin tin about 3/4 full
8. Bake for 20 minutes or until a toothpick comes out clean
Tips:
Store in a very airtight container for 3-4 days; the muffins are very moist so they can go bad pretty quickly if they aren't stored properly! You can also store them in the fridge to make them last longer!