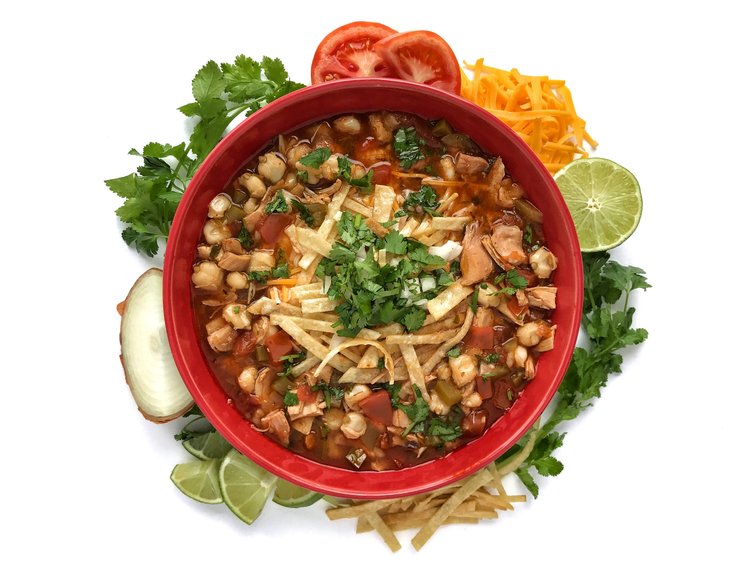 Submitted by Audrey Alfaro
About the cook:
I'm Audrey. I'm a rockstar mom, okay wife and foul-mouthed chef from Anchorage, Alaska. I love horror flicks, fried chicken and vodka. Not together, but just in general. When I'm not cooking, you can find me at thrift stores or feeding the homeless. I'm a food columnist for the Spokesman Review, costume maker extraordinaire, a perfectionist, and lover of all things edible. I was once on a show on MTV and a contestant on Food Network's Halloween Baking Championship. Whipped cream was used on both. CHEERS!
About the dish:
A festive soup loaded with flavor and texture, it's savory, colorful and fresh – sure to knock your socks and sombrero right off. The base for chicken tortilla soup is a mixture of peppers, onions, garlic, chicken stock, enchilada sauce and Mexican seasonings. Hominy, tomatoes and chicken are added, and it's all topped with cheese, onions, cilantro, lime and fresh fried tortilla strips. Avocados and jalapeños would go great as well. And, for a creamier soup, stir in a dollop of sour cream.
National Origin:
MEXICAN
Serves:
8
Estimated Time:
30 to 60 Minutes
Ingredients:
3 tablespoons butter
1 onion, diced
1 green bell pepper, diced
3 garlic cloves, minced
3 quarts chicken stock
1 28 ounce can red enchilada sauce
1 bay leaf
3 teaspoons garlic powder
2 teaspoons cumin
1 1/2 teaspoons paprika
1 teaspoon oregano
1/2 teaspoon fresh ground pepper
1/2 lime, juice fresh squeezed
4 tomatoes, diced
1/2 cup cilantro, chopped
1 30 ounce can Mexican style hominy, drained
5-6 cups cooked chicken meat, diced
For topping:
Oil for frying
1 dozen corn tortillas
3 cups cheddar or Mexican blend cheese, shredded
1 onion, diced
1 cup cilantro, chopped
2 limes, cut into wedges
Preparation:
In a large soup pot over medium heat, melt the butter and add in the onions, bell peppers and garlic. Cook until softened, about 3 minutes. Add the chicken stock, enchilada sauce, bay leaf, seasonings and lime juice. Stir to combine, then add in the tomatoes, cilantro, hominy and chicken. Bring to a boil, then reduce heat to simmer on low for 20 minutes.
Meanwhile, pour about 1 inch of oil into a small frying pan set over medium-high heat. Cut the stack of corn tortillas into quarters, then cut those quarters into strips. Once oil is hot, cook the tortilla strips in batches, until light golden and crisp, about 1 minute. With a slotted spoon or tongs, transfer strips to a paper towel-lined plate.
Ladle soup into bowls and top with cheese, onions, cilantro and tortilla strips. Serve with lime wedges.