Chicken Breast With Mashed Potatoes, Creamy Spinach, And Black Garlic Cream Sauce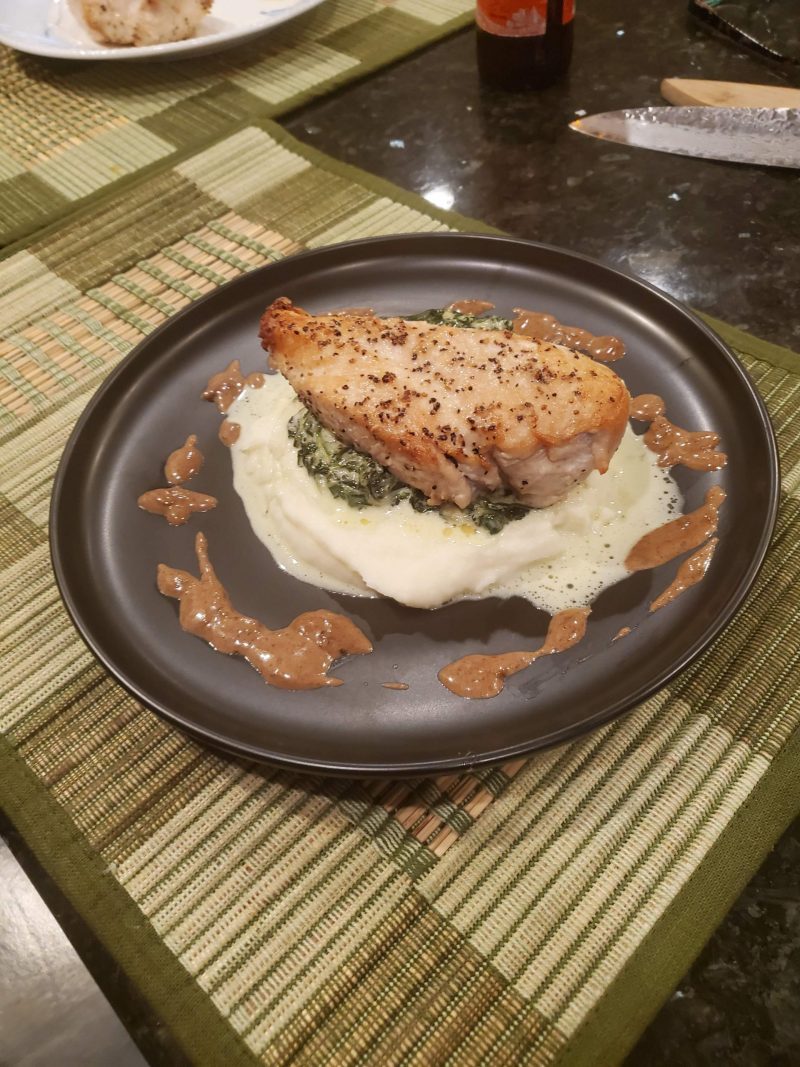 Submitted by Daniel Lewis
About the cook:
ICE culinary graduate with a passion for cooking.
About the dish:
A classic chicken dish with a black garlic twist.
National Origin:
French
Serves:
5
Estimated Time:
30 to 60 Minutes
Ingredients:
Chicken breasts: 5
Russet potatoes: 7 peeled and chopped
Spinach: 16oz
Heavy cream: 6 cups
Black garlic bulbs: 5 peeled and smashed
Parmesan cheese: to taste
Water: 2-4 cups
Butter: 2 sticks melted
Preparation:
1: Pre-heat oven to 450F.
2: Add peeled and chopped potatoes to cold salted water and place over high heat, cooking until tender then covering and turning heat to low.
3: Season chicken breasts.
4: Over high heat, sear chicken then place on sheet pan.
5: Place chicken in the oven and set timer for 20 minutes, remove from oven after timer goes off  and let rest for 5-10 minutes.
6: While chicken is cooking deglaze pan with 2 cups water, cooking until almost completely evaporated before adding smashed black garlic.
7: Cook garlic until fragrant then add 4½ cups heavy cream.
8: Bring cream to boil while whisking then remove from heat.
9: Strain the potatoes and return to pot (note for a smoother texture you can use a potato ricer).
10: Fold butter and ½ cup cream into the potatoes.
11: Saute the spinach until wilted then strain with a paper towel.
12: Return spinach to pan in addition to remaining heavy cream and bring to a boil, then add parmesan until you have the taste and consistency you like
13: Reheat the garlic cream sauce using the remaining 2 cups water to thin out if necessary.