Brownie Brittle with Chocolate Chips & Toffee Bits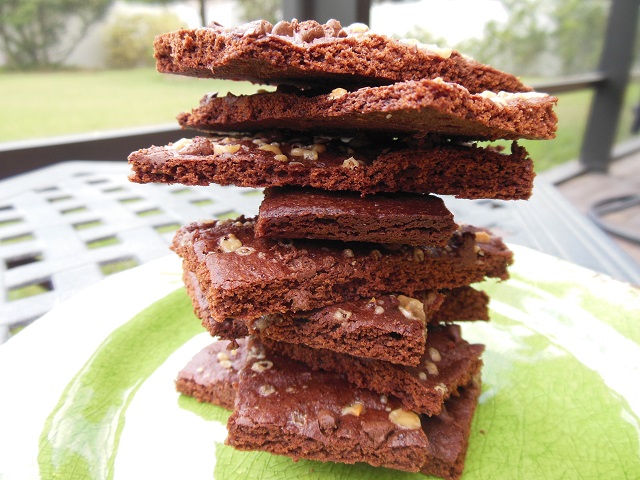 Submitted by Lorraine Stevenski
About the cook:
I grew up in New York with my Italian family. We love to cook and eat together. I write recipes and enter recipe contests.
About the dish:
Here is my recipe take on supermarket Brownie Brittle. My recipe is crunchy, chocolately but with a lot less fat and calories. Just a few of these squares satisfy my chocolate desire.To make this a whole grain healthier recipe, I use white whole wheat flour. For less sugar and calories I use Stevia baking blend. I also add a bit of espresso powder to cut the sweetness; you don't taste the coffee flavor at all. To top are mini chocolate chips and toffee bits. Use good quality chocolate chips and cocoa as the flavor depends on it. This my perfect little chocolate indulgence that is so easy to bake.
National Origin:
AMERICAN
Serves:
24
Estimated Time:
30 to 60 Minutes
Ingredients:
4 tablespoons butter, 1/2 stick
1 cup semisweet chocolate chips
3 tablespoons natural cocoa
1/2 cup sugar, or TRUVIA baking blend
2 large egg whites
2 teaspoons vanilla extract
3 tablespoons nonfat milk
3/4 cup flour, or white whole wheat flour
1/4 teaspoon baking soda
1 teaspoon espresso powder
1/4 teaspoon salt
Topping:
1/4 cup mini chocolate chips
2 tablespoons toffee bits
Preparation:
1. Preheat the oven to 350 degrees. Line two 9X13 rimmed half sheet pans with parchment. Spray lightly with canola cooking spray.
2. In a large microwave safe mixing bowl, add the butter and 1 cup of chocolate chips. Microwave for 30 seconds and stir with a rubber spatula. Return to the microwave for 15 seconds at a time, stirring after each, until the mixtures is completely melted and smooth.
3. With a large rubber spatula, stir in the cocoa and sugar; the mixture will be thick and grainy. Stir in the egg whites, milk and vanilla extract; stir just until smooth.
4. In a medium mixing bowl, whisk together the flour, baking soda, espresso powder and salt. Gradually stir into the butter/chocolate mixture until smooth.
5. Divide the batter between the 2 sheet pans. Take your time and smooth the batter into the corners and evenly spread around the pan. Sprinkle the remaining chocolate chips (2 tablespoons on each) and toffee bits (1 tablespoon on each).
6. Bake for 15 minutes or until glossy but still moist. Do not let the edges burn. The brownies will be slightly soft while hot. Remove from the oven and immediately use a pizza cutter to cut 12 squares on each pan. Let the brownies cool completely in the pan. They will harden as they cool.
7. Remove from the pan onto a flat surface. Gently break the pieces along the lines. Trim off any burnt or well done edges.Set the pieces on a tray lined with waxed paper to crisp and harden further.