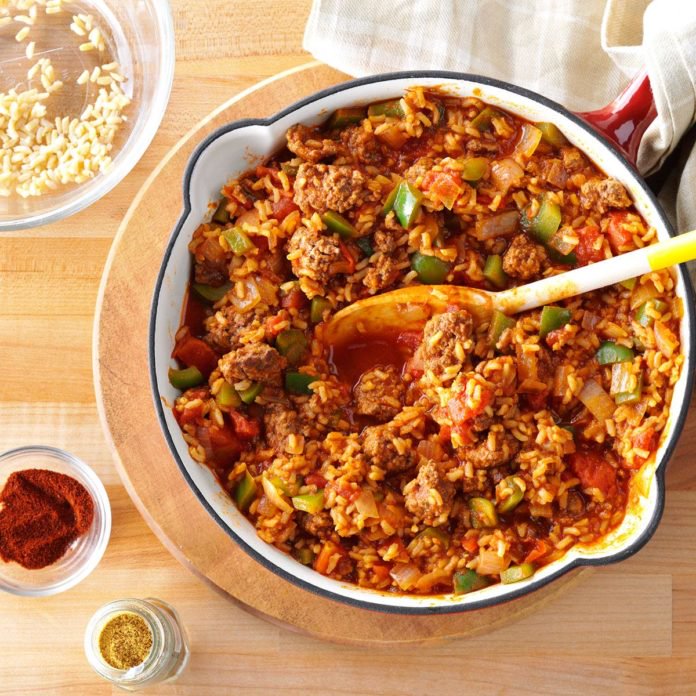 Submitted by Bernard Barcos
About the cook:
I worked as a microwave electrical engineer, moving later in technical marketing. I left my job and opened a cafe and catering business which I ran for 8 years. After selling the business and retiring, I worked part time in a wine bar/restaurant conducting tastings. I am an active photographer, doing both fine art and stock photography. I am an avid gardener and cook.
About the dish:
A spicy and full flavored rice side dish.
National Origin:
American
Serves:
4
Estimated Time:
30 to 60 Minutes
Ingredients:
1 cup long-grain rice
1 tablespoon olive oil
2 slices bacon -- chopped
3 each scallion -- chopped
2 stalks celery -- chopped
1/4 cup bell pepper -- chopped
2 cloves garlic -- minced
4 ounces mushroom -- chopped
1/4 cup cilantro -- chopped
2 each Roma tomato -- peeled, seeded and chopped
8 ounces El Pato sauce
1 heaping teaspoon dried basil
1 heaping teaspoon ground cumin
2 cups chicken broth
salt and pepper -- to taste
Preparation:
Heat oil in large sauté pan and add bacon. Cook for 3 minutes. Do not crisp.
Add scallions, celery, and bell pepper. Cook until limp. Heat oil in large saute' pan and add bacon. Cook for 3 min. Do not crisp.
Add rice and cook, stirring, for 2 minutes.
Add mushrooms and garlic; cook until mushrooms are tender and liquid is reduced somewhat.
Skin, seed, and cube tomato. Add tomato, cilantro, basil, cumin, salt, and pepper. Cook 2 min, then add El Pato sauce. Simmer for 2-3 min. to blend flavors then add the broth and bring to a boil.
Bring to boil then reduce to simmer and cover. Cook for 25 min.
When time is up, turn off burner. If you are not going to serve it right away, do not lift lid; it will stay warm for some time. Fluff and transfer to bowl for serving.