Autumn Spice Madeleine Cookies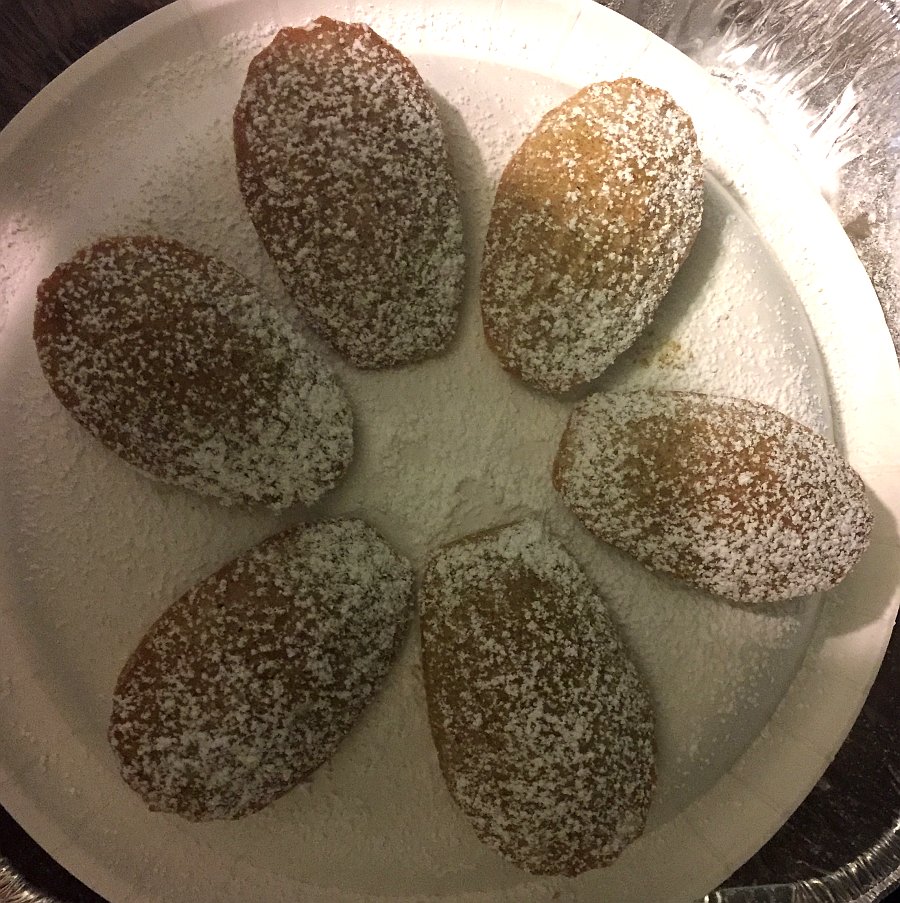 Submitted by Hope V. Cotturo
About the cook:
I am a hobby baker and cook. I absolutely treasure my time with my fellow hobby bakers and cooks. I do not belong to a cooking club, I simply talk about different baking techniques, cooking techniques, ingredients, gadgets, pots, pans, baking sheets, recipes and new ideas with anyone who wants to talk about baking and cooking. Being around and talking with other hobby bakers and cooks adds happiness and joy to my day.
About the dish:
I recently discovered Madeliene Cookies and I love baking and making them. For this contest, I decided to use the base ingredients of Madeleine Cookies. After reading many recipes, I decided on what ingredients I wanted to try, adjust and or change for this new Madeleine recipe. These Autumn Spice Madeleine Cookies are new but maintain the beauty and essence of a traditional Madeleine Cookie. I call these cookies Autumn Spice Madeleine Cookies. Autumn Spice Madeleine Cookies are pretty, flavor bursting and filling little treats. This recipe substantially reduces the amount of butter used in a traditional Madeleine cookie. It also adds new flavors and color to a traditional Madeleine cookie.
National Origin:
French
Serves:
21
Estimated Time:
30 to 60 Minutes
Ingredients:
3 Eggs
1/2 C Sugar
1 C Flour
Pinch Coarse Salt, such as Kosher Salt or Sea Salt, may use any salt have
1/2 t Baking Soda
3T Salted Butter
2 t Vanilla Butter Nut Extract
1 1/2 t Ground Cinnamon
1 t Ground All Spice
1/4 t Ground Cardamom
1/2 C Powdered Sugar
Preparation:
1. Pre-Heat Oven to 375 Degrees.
2. Spray Baking Cooking Spray (like Pam Spray) on Madeleine Pan. Use pastry brush on cookie sheet to ensure cooking spray is not going to saturate cookies. Set Cookie tray aside to be used later.
3. Lightly brown Butter on stove top on medium heat in a small pot. Butter should be a light golden brown which brings out a nutty flavor in it. Once your butter starts to bubble and possibly foam, you are nearing completion of this task. Once butter is light golden brown, take off heat and place in a heat proof bowl to cool. This is a tricky step in that you do not want to burn the butter. When in doubt remove butter from the heat of the stove even if you are not sure if it is the light brown color you want it to turn. Do not forget we have an extract that has a nut flavor in it too.
4. In a large bow, gently mix sifted Flour, Baking Powder and Salt together. This should take a moment of mixing. Set this bowl aside.
5. In a bowl, use electric mixer on high speed setting to mix the following: Room Temperature Eggs, Sugar, Vanilla Nut Extract, Ground Cinnamon, Ground All Spice and Ground Cardamom. Mix until all these ingredients are the consistency of thick cake batter. This step could take over 5 minutes, so if you have any type of hands free stand mixer, use it. Also, if you have a copper bowl, it really helps with the thickening yet lightness of this egg mixture. If you do not have a copper bowl whatever you have will be terrific. I have used both copper bowls and plastic bowls, and the outcome with both has been wonderful.
6. Strain fully cooled Butter into the Flour Mixture. If Butter is darker than wanted, use a strainer to add Butter to Flour, so darker bits of Butter never touch the flour. Gently fold Butter into Flour. Take 1/2 of Egg Batter and Gently fold into Flour and Butter mixture. Once it is fully incorporated, fold in remaining Egg Batter. This is an extremely important step, as you want to ensure your batter is fully mixed yet filled with air, so it does not bake compact and heavy. You do not want to over mix. Once all the Flour is wet and creamy you are done with this step and need to put a cover on bowl and place in refrigerator for at least 15 minutes to thicken this batter. Once the batter is placed in refrigerator do not mix it again. In other words, once batter is in refrigerator, you only scoop batter out of bowl to fill cookie tray molds.
7. Take thickened batter out of refrigerator and Measure 1T of it into each Madeleine Mold. After cookie sheet is filled with batter, place remaining batter in refrigerator, so it stays cold and thick.
8. Place in oven for 7-10 minutes depending on your oven. Cookies will have a beautiful golden brown edge when done, and the cookie will spring back to your touch when it is done. When done cookie will look like a beautiful fluffy cake.
9. Immediately upon removing cookie tray from oven flip cookies onto cookie rack for cooling.
10. Cookie sheet will still be hot. You can re-batter cookie sheet using hot cookie sheet or cool cookie sheet. If you use hot cookie sheet re-apply cooking spray to it and repeat steps 7 to 10 until you no longer have batter to cook. To use cool cookie sheet, use pot holder and flip sheet upside down, and spray cold water on back of sheet until it is cool to the touch on the back and front of it. Then, dry back of cookie sheet, re-apply cooking spray, and repeat steps 7 to 10 until you no longer have batter to cook.
11. If you like, once cookies are cool, you can sift Powdered Sugar on them.
This Batter should make at least 32 Autumn Spice Madeleine Cookies; however, I have gotten about 42 cookies from this recipe.
Serving Size: Either 1 or 2 cookies of these Autumn Spice Madeleine Cookies should be a filling snack for most people.
Enjoy!