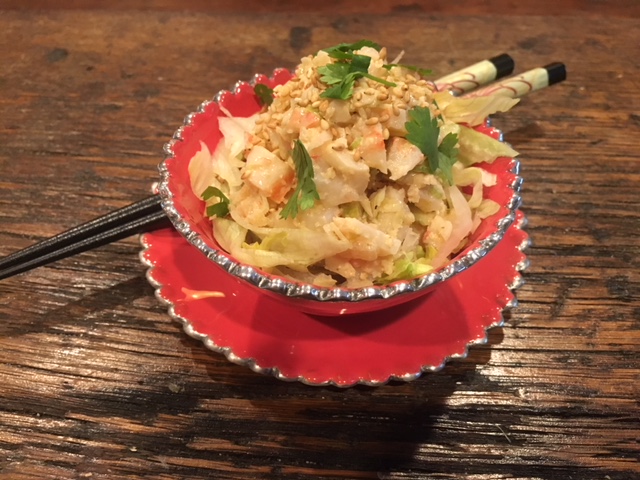 Submitted by Lorri Millett
About the cook:
I spent 30 years in corporate retail and am recently retired. My career started with a kitchen/housewares company and I developed a passion for cooking during that time. I enjoy creating new dishes and entertaining with friends and family. My husband and I also owned a local art gallery and have been involved in the arts community for many years.
About the dish:
I first had a similar dish as a starter at our favorite Sushi restaurant and decided to try my hand at recreating it. I must say it gets rave reviews when I serve it and it is simple to prepare. Slightly spicy, definitely crunchy, and has a light texture while delivering a punch of flavor. It makes a great starter!
National Origin:
Japanese
Serves:
4
Estimated Time:
Under 30 Minutes
Ingredients:
1lb Jumbo Lump Crab Meat, sorted with any shells removed.
2 Stalks Celery, finely diced, including leafy green tops
2 Green Onions, finely sliced
1 Cup Napa Cabbage, thinly sliced, then diced (about 1/3 of a medium head)
1/4 Cup Mayonnaise
1 Tbsp. Toasted Sesame Seeds
1 Tbsp. Sriracha Hot Sauce
1 tsp. Sesame Oil
1 tsp. Agave
1 tsp. Soy Sauce
1 tsp. Seasoned Rice Vinegar
1/2 Cup Unseasoned Panko Bread Crumbs
*Shredded Iceberg Lettuce, Sesame seeds, and minced cilantro (optional) for serving.
Preparation:
Gently sort through the crab meat, ensuring any shells are removed and set aside. In a medium sized mixing bowl combine the next 10 ingredients and stir to coat evenly. Gently fold the crab into the mixture. Salad can be made ahead of time to this point and refrigerated for up to 24 hours. Just before serving fold in the Panko bread crumbs so they maintain their crunch. Consistency should be light and fairly dry. Serve a scoop over thinly shredded iceberg lettuce and top with additional sesame seeds. (I like serving as an appetizer in short-stemmed ice cream glasses or small bowls with chopsticks)