Sea Salt Mint White Mocha Cookies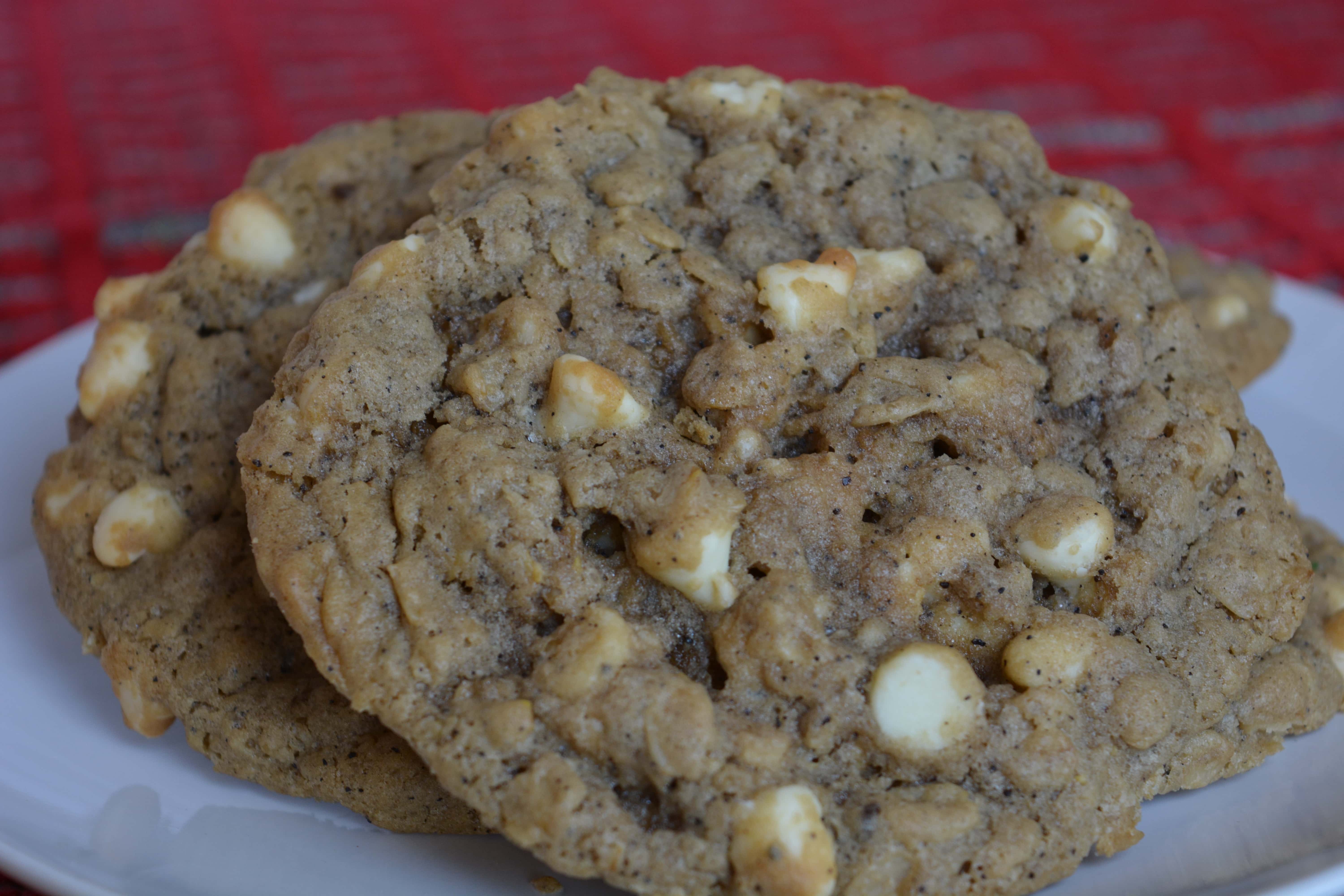 Submitted by Kristin Bowers
About the cook:
My name is Kristin. I live in Rancho Palos Verdes, CA with my little family (husband- Brent, toddler- Noah). I am an MA student by day and a baker by night!
About the dish:
My mom learned to bake from her grandma, Grandma Alice. Grandma Alice was warm and stubborn and always had a fresh plate of warm cookies on her counter. According to my mom, Grandma Alice was full of life and a sharp wit even as she entered her nineties. Unfortunately, Grandma Alice passed away before I had a chance to meet her, my great-grandma. But, along with a beautiful emerald ring (Grandma Alice's favorite color and stone), I was passed down her recipes. I learned some of them by heart as my mom taught me to bake starting at the age of 10. The rest of the recipes I received at my baking-themed bridal shower 5 years ago. To this day, I feel like I know Grandma Alice. I think of her in the kitchen, covered in flour as I often am, baking treats for those she loved. I try to embody her when I make her recipes. This one in particular tastes like togetherness and Christmas. I learned how to make these cookies in high school from my mom and I've been making them ever since. These cookies have been experienced by everyone in my life—from friends to coworkers to babysitters to teachers—and all with rave reviews. So, thank you, Grandma Alice, for sharing your kitchen with me.
National Origin:
American
Serves:
20
Estimated Time:
Under 30 Minutes
Ingredients:
1 cup butter flavored shortening
3/4 cup brown sugar
3/4 cup granulated sugar
1 teaspoon mint extract
2 large eggs
1 teaspoon baking soda dissolved in 1 teaspoon warm water
1 teaspoon ground sea salt
1 1/2 cups all-purpose flour
1 tablespoon finely ground espresso beans
2 cups old fashioned oats
12 oz white chocolate chips
Preparation:
Preheat oven to 350 degrees Fahrenheit. Cover two baking sheets with parchment paper.
In the bowl of an electric stand mixer fitted with a paddle attachment, cream shortening, brown sugar, and granulated sugar together for 2 minutes on medium speed. Add eggs and mint extract, and mix at medium speed for 1 minute. Scrape down the bowl with a spatula so everything combines evenly. Turn speed on low and add salt, baking soda, espresso powder, and flour. Mix on low until the dough comes together and is well combined, about 45 seconds. Turn off mixer and add oats and white chocolate chips. Stir by hand to combine.
Using an ice-cream scooper, scoop out balls of large balls of dough and place them on the baking sheets, about 2 inches apart.
Bake cookies for 12-15 minutes or until the edges of the cookies are just starting to turn golden brown and the tops have small air holes.
Remove from oven and allow to cool on the baking sheet for 5 minutes. Transfer to a wire cooling rack.