Gingerbread Cupcakes with Spiced Cream Cheese Frosting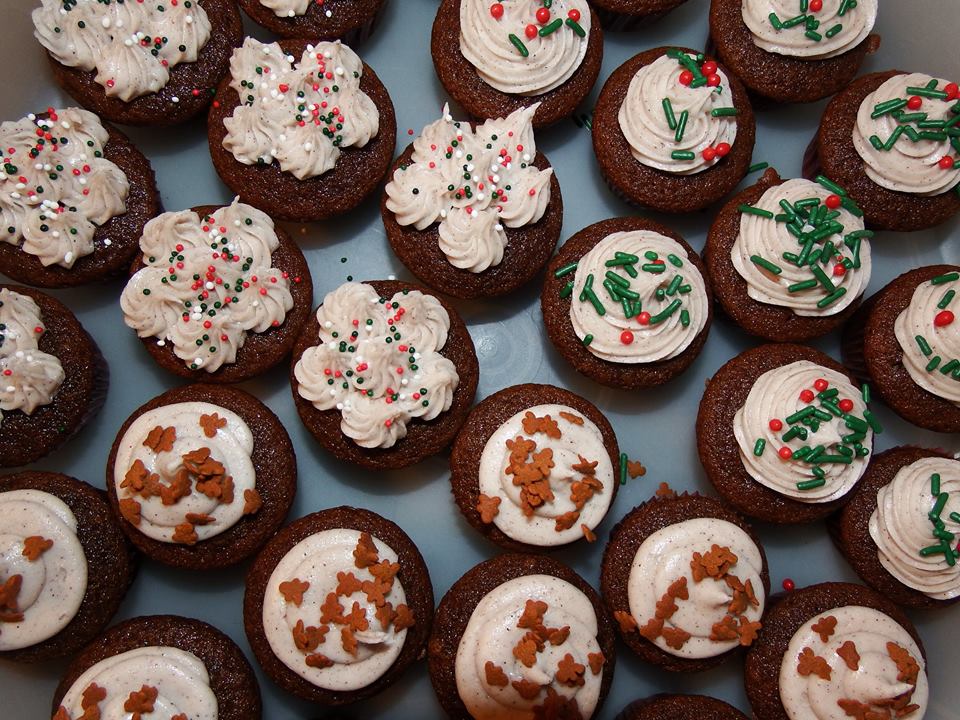 Submitted by Anna Ferreira
About the cook:
I hold a certificate in Baking and Pastry as well as a Liberal Arts degree. I love experimenting with new recipes, and have worked at many bakeries and restaurants over the years. In my spare time, I love traveling and playing video games with my husband.
About the dish:
A great holiday cupcake recipes that packs just the right amount of gingerbread flavor. Makes 24 regular or 42 mini cupcakes.
National Origin:
American
Serves:
24
Estimated Time:
1 to 2 Hours
Ingredients:
Cupcakes:
• 1 3/4 cups all-purpose flour
• 1 teaspoon baking soda
• 2 teaspoons ground cinnamon
• 2 teaspoons ground ginger
• 1/4 teaspoon ground cloves
• 1/4 teaspoon ground nutmeg
• 1/4 teaspoon salt
• 1/2 cup (8 tablespoons) unsalted butter, melted
• 1/2 cup packed dark brown sugar
• 1/2 cup molasses
• 1 large egg
• 1/2 cup water
Frosting:
• 6 tablespoons unsalted butter, at room temperature
• 8 ounce package cream cheese, softened
• 4 cups powdered sugar
• 2 teaspoons ground cinnamon
• pinch of ground cloves
• 1 to 2 tablespoons milk (if icing is thick)
Preparation:
Cupcakes:
1. Preheat oven to 350°F. Line mini cupcake tray with cupcake papers.
2. Melt butter over stove or in microwave. Don't let it get too hot, only to the point that it melts. Set aside to cool.
3. Combine flour, baking soda, cinnamon, ginger, cloves, nutmeg, and salt in a bowl. Whisk together to combine and break up any lumps.
4. Place brown sugar, molasses, and egg into a large mixing bowl or the bowl of a stand mixer fitted with a paddle. Pour in butter and mix until smooth. Mixing can be done at slow to medium speed on a stand mixer, by hand with a whisk or rubber spatula, or with a handheld mixer on the lowest setting.
5. Alternate adding water and dry ingredients to butter mixture, making sure to thoroughly scrape down the sides of the bowl with a rubber spatula.
6. Spoon out mixture into lined baking cups and bake for 12-14 minutes for mini cupcakes, or 18-20 minutes for regular cupcakes.
Notes:
• Light brown sugar can be used in place of dark brown sugar-just add a little extra molasses to the mix.
• Cupcake yield depends greatly on how high you fill your pans- 2/3 to 3/4 full is standard.
 
Frosting:
1. Beat butter and cream cheese until smooth.
2. Add powdered sugar slowly, making sure to incorporate each bit and scrape down the bowl before adding more.
3. Add cinnamon and cloves.
4. If the icing is thick, add milk until it reaches the desired consistency.
5. Pipe onto cooled cupcakes or store in fridge.
Notes:
• If using a stand mixer, wrap the top of the bowl with a clean towel to avoid a powdered sugar cloud.
• If the icing is too thin, add a tablespoon of powdered sugar until it is thick enough.
• Store iced cupcakes in the refrigerator unless being eaten immediately.