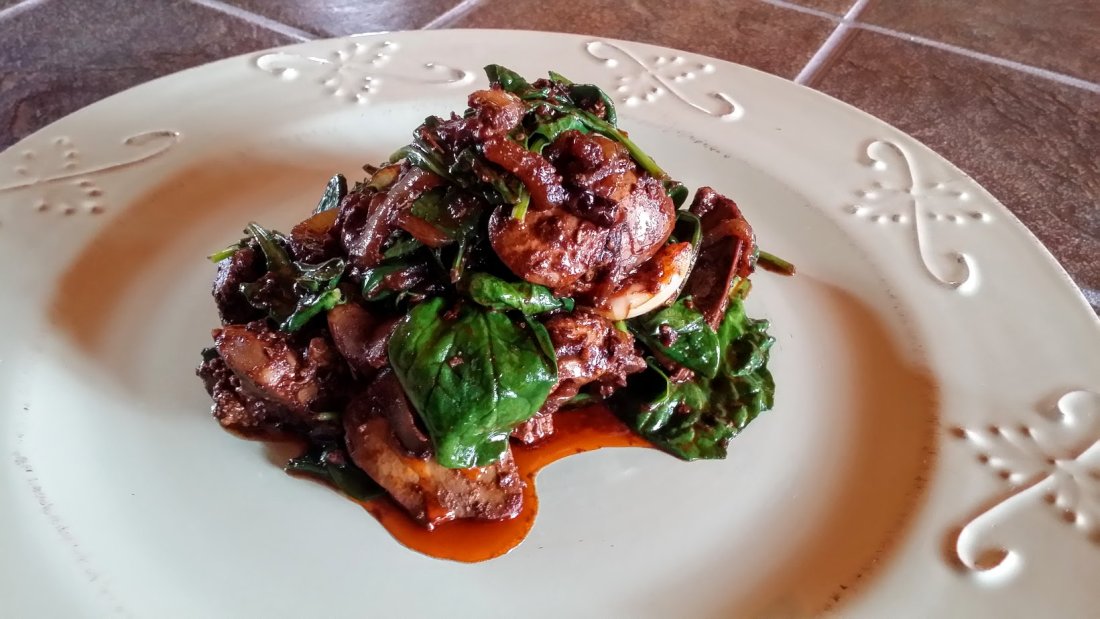 Submitted by Gordon Vivace
About the cook:
A professional chef, but enough about me.
About the dish:
A balsamic glazed twist on chicken liver that will convert just about anybody.
National Origin:
Italian
Serves:
4
Estimated Time:
30 to 60 Minutes
Ingredients:
20-24 Large Chicken Livers
1 medium red onion sliced to 1/4 inch strips
2 cloves garlic, diced
1 cup chopped parsley
2 cups aged balsamic vinegar
1/2 cup olive oil
Salt and pepper
Preparation:
Heat the olive oil in a large pan on medium-high heat. Add the livers and sear them until brown on one side and approximately 40 percent done (3-4 minutes).
Turn the livers and sprinkle with salt and pepper. Add the garlic and onions and cook an additional 3-5 minutes. Add the balsamic vinegar and then flip or gently stir, allowing the livers to be coated in the vinegar, and simmer an additional 3-5 minutes depending on your desired doneness (3 minutes for medium-rare and 5 minutes for medium-well).
Add the parsley and flip, or stir, to incorporate. If the sauce becomes too thick, additional vinegar or a small amount of water may be added. The sauce should have the consistency of a thick glaze, not heavy gravy.
Pictured, I folded in a little spinach to wilt for color contrast. My favorite way to eat this is on polenta, which gets along great with the flowing juices. You can just as easily serve it on plain rice or with a side vegetable, or even on top of a really lightly dressed salad.