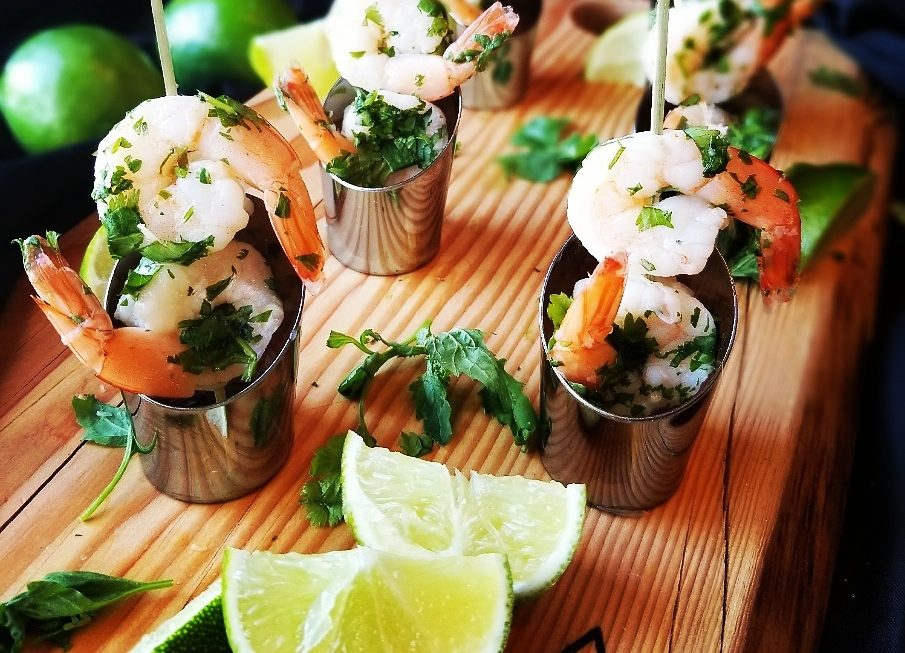 Submitted by Erin Andrews
About the cook:
My name is Erin Andrews and I'm a small food blogger from an even smaller town, Maple Ridge, BC to be exact. Very long story short, I love food and I love to feed people. Out of this love The Kanaka Kitchen was born.
About the dish:
Any recipes that require minimal cooking and get me out of the kitchen faster while still being able to whip up an awesome dish during these hot summer months is my obvious go to; these Desert Princess Prawns are just that.
National Origin:
Mexican
Serves:
4
Estimated Time:
30 to 60 Minutes
Ingredients:
Ingredients:
1 lb Prawns, cooked (fresh/frozen... whatever is on sale)
1 1/4 Cup Lime Juice (freshly squeezed or bottled... I won't tell)
2 Cloves Garlic (Grated)
1 Shrimp Bullion
1/2 Cup Cilantro (finely chopped)
Preparation:
I'm obsessed with these Prawns; they're unique, fresh and flavorful, definitely a new twist on a boring classic. Anyone that eats these Prawns has the same reaction… "Wow!". Why the name you ask? While in Palm Springs, I discovered these at a local market… I was addicted off my first bite. For the remainder of the week I floated around in a pool with a crisp margarita on the rocks in one hand and a bowl of these little god sends in the other. What I would do to be back in that pool reliving those moments…. especially after this week.
So, clearly I had to recreate this recipe which involved me eating at least 3 lbs of this goodness… (what lengths I go to to get you guys the best recipes) but don'ts even worry about me.. did I forget to mention these are low in calories! Double score marks for me!
This recipe is super simple, cost effective and requires only 5 ingredients. However, I will warn you that finding one of these ingredients (which is an important component to this recipe) is going to be difficult or at least requires you to hit up a couple of different markets to find… Shrimp Bullion cubes. You've obviously have seen beef bullion, chicken bullion and vegetable bullion cubes, finding shrimp will be more challenging. I found mine in the ethnic section of a big box grocery store (which you know I hate to shop at) but it was the only place I could find them. They add the intensity and saltiness that makes these stand out… definitely don't skip this step.
Enough with this writing, lets get down to it.
Method:
In a sauce pan, heat 1 cup of Lime juice, Garlic and Shrimp Bullion cube until just dissolved
Pour liquid into a heat safe bottle and refrigerate until completely cool (or place in the freezer if you are in a hurry)
Next, place Prawns, and Cilantro in a bowl and add your chilled Lime marinate
Add your remaining 1/4 Cup of fresh Lime juice
Refrigerate and let marinate anywhere from 1-5 hours. Caution: Don't let this dish marinate too long in this liquid, the acid of the Lime will continue to cook the Prawns and you'll end up with something that resembled rubber. Theoretically, you could use raw Prawns and let this sit in this marinate over night in the fridge and it will cook itself, but unless you are familiar with the 'Ceviche' process, to make your life easier… just use cooked Prawns.
And there you have it! Simple, quick and easy. Definitely make more then you think you'll need… these are going to go fast!
Tip: The great debate… My father always took the tail off the Prawns because he thought it was a hassle for consumers, I leave the tail on because I don't like to touch my food with my hands… especially at a party (great way to catch a cold) and it makes for an awesome presentation…. LEAVE THOSE TAILS ON! End of debate