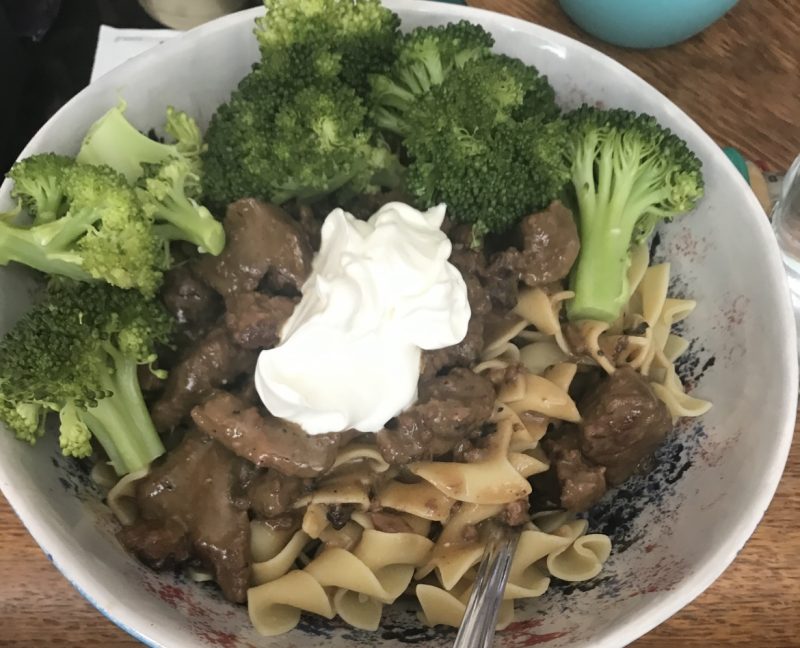 Submitted by Gabriel Reyes
About the cook:
I like to eat good food and had a really hard time finding good beef stroganoff in my little town, so I made it myself.
About the dish:
My family favorite beef stroganoff with a tangy bite to it.
National Origin:
Russia
Serves:
4
Estimated Time:
1 to 2 Hours
Ingredients:
2 lbs London broil sliced thinly
2 bunches green onion sliced
8 oz mushrooms sliced thinly
1 cup plus more for garnish sour cream
24 oz beef consommé
3 tbs plus 2 cups water
3 tbs corn startch
2 tbs yellow mustard
1 tsp coarse kosher salt
1 tbs cracked black pepper
1 tbs canola oil
3 tbs unsalted butter
1 package extra wide egg noodles
4 oz Bleu cheese crumbles
Preparation:
Heat large heavy skillet over medium high heat and add canola oil when hot. Season meat with salt and pepper then add to hot oil. After browning the meat reduce heat to medium and add green onions, saving some of the green for garnish. Cook until onions are translucent then add consommé and stir in mustard. Cook pasta in boiling salted water until al dente and set aside after draining and rinsing. Thoroughly mix water and corn starch together and add to pan and stir so there aren't any lumps. Cook until meat is tender adding water to pan as needed so the meat is covered by water. When meat is tender add sour cream and mushrooms to pan and cook for five minutes. Serve hot over prepared noodles and top with green onion tops, sour cream and bleu cheese.